From internship to job-offer
Meet Gustav, who shares his journey from internship to employment at SAVR.
Gustav Henningsson currently studies his masters within Business & Management at Stockholm School of Economics.
Gustav went from an internship within Business Development to a job offer at SAVR.
Make the most of your internship
- I applied for an internship at SAVR partly to learn more about the industry, but also to join their mission to make it cheaper and easier for people to start investing.

- An important part of an internship is gaining experience and learning different things, therefore it is important to choose a company where you are given the right prerequisites. Since SAVR is a small company, I had the opportunity to be involved in many different areas. For example, I worked a lot with sustainability and how we can make it easier to invest sustainably. The financial industry can be a big part of the solution and a lot happens within the area.
- SAVR is a company that dares to do things in a different way. If you are passionate about savings and have new ideas, this might be the place for your internship.
Gustav's advice for a successful internship
Ask a lot of questions. You are not expected to know everything. What is required, however, is to ask questions.
Dare to take the initiative. An internship is as much a way for you to try a workplace as it is for a company to get to know you. Therefore, dare to ask to be part of a specific project or have a meeting with a specific person. It just shows that you are committed.
Make sure to have follow-up meetings. In the beginning, it is difficult to know exactly what the requirements are. Therefore it is important to have ongoing follow-ups with your mentor. It makes you feel less insecure, and the result will be better in the end.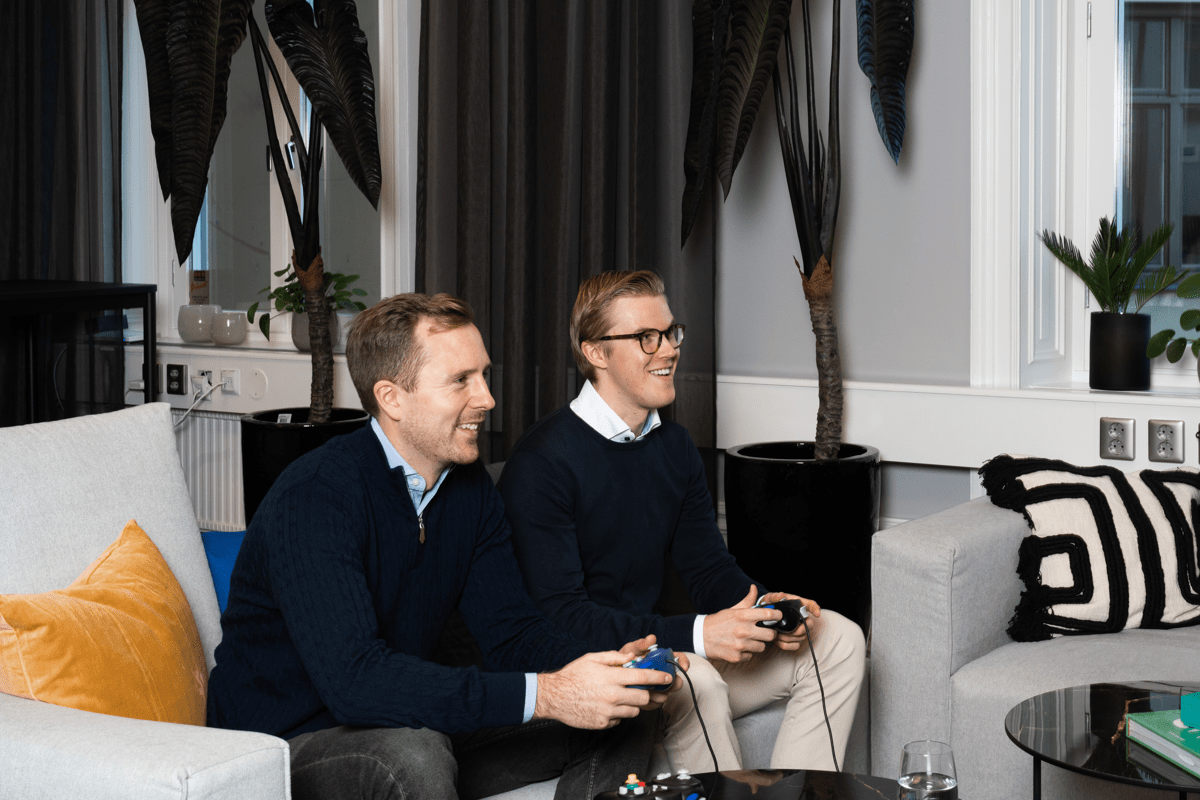 Gustav (on the right) with his mentor Carl-Johan (to the left).
Expectations on mentoring:

- As a mentor, it is good to schedule weekly follow-up meetings. This makes it easier for the intern to ask questions in a simple and relaxed way. A good question for the mentor to ask in these meetings is: 'What has been most difficult since the last time we spoke?', as this opens up for discussion and dialogue.
- I would also encourage the mentor to invite the intern to meet other people at the company, and to learn about different projects besides the ones you are working on together.
From internship to job-offer
In June, 2022, when Gustav has completed his studies, he will start his new role at SAVR as Junior Business Developer.
We look forward to having him on the team, and wish him the best of luck during his last semester! 🚀
Looking for an internship?
If you are looking for an internship and think SAVR could be the right place for you, make sure to connect with us.